Now is the time to sell your gold!
Gold prices (€ per g, B:Buying P:Pawn) :
The price of gold is soaring. When will it hit the top? Or is it a bubble on the verge of bursting? At Lohmann Pawn Shops we can't answer that question either, but we won't stop our policy of offering the highest price when buying gold from clients in our Berlin pawn shops.
In addition to granting loans with gold of any kind as collateral, we also purchase gold items. So you can choose the best option to access cash in your current situation. We buy gold bars, gold jewelry, coins and recyclable scrap gold.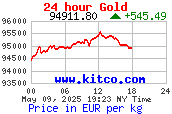 We buy gold up front, without hidden tricks.
Our prices for various types of gold are listed clearly on our pawn shop website. This way, you can compare what we'll pay for your gold with our competitors' prices – if they actually publish their prices. That's why we list current gold prices on our website -- so you know exactly what our price is, up front!
Consumer advisory centres recommend acquiring several price estimates from different establishments before selling your gold!
So don't sell your gold to the next best dealer, come see us, too! At Lohmann Pawn Shops, we'll prepare an estimate, free of charge and without any pressure to sell your gold to us. Then take your time comparing our price with competitors' estimates. In the past, we have given customers up to three times more than other Berlin establishments!
Selling gold by mail order
We strongly urge you not to sell gold items via mail order. Why send your precious gold possessions to companies of questionable reputation who apply tricky and even fraudulent methods? These establishments often exist for just a short time until the owners disappear.
Our warnings you find confirmed in the "Welt" from 17.1.2011.
Selling or pawning gold
The choice is yours: either sell your gold or use it for a short-term secured loan from Lohmann Pawn Shops. If you need cash for an unexpected expense, use your gold jewelry or other valuable merchandise can serve as collateral for a short-term loan. This is especially advantageous if the price of gold continues to climb. Even before the crisis in Greece (which spread insecurity regarding the stability of the Euro), the economic trend indicated the price of gold will continue to increase.
If you feel the price of gold has reached the top and is even starting to fall and would like to take advantage of the current high price of gold, consider selling your gold items.
Pawn shops and gold:
Lending money using gold possessions as collateral has always been the main service of pawn shops. That means you can expect respectable, friendly and expert advice from experienced employees at our pawn shops. And our experts' advice is non-binding and does not obligate you to do anything.
We won't pressure you to sell because our main business is to provide short-term loans, so we're not interested in making quick money through buying and selling gold. Our goal is to win you as a customer for our pawn shops, as a recipient of credit, or a purchaser of jewelry, watches, coins, stamps and other valuable merchandise for sale in our pawn shops.
A clear testimony to the reputable service and degree of client satisfaction generated by our pawn shops is the year 1890, namely when our first pawn shop opened. That's how long we've been in business!
We look forward to welcoming you in one of our pawn shops soon!
Auction dates:

19.09.2023 start 9:00 a.m Pawn auction Leihhaus Moabit

19.09.2023 start 9:00 a.m Pawn auction Leihhaus City

Place: auctioneer Sebastian M. Protz, Einsteinufer 63a, 10587 Berlin
Order our newsletter!
Do not miss any of our current auctions, prices and promotions. Register for our
newsletter
and we will inform you in time.